"Transform Your Cargo Fleet: Free SHAHIN GPS Certification for Unparalleled Security and Efficiency in Dubai"
"Transform Your Cargo Fleet: Free SHAHIN GPS Certification for Unparalleled Security and Efficiency in Dubai"
In today's fast-paced world of cargo logistics, ensure the security and efficiency of your operations with StarlingEye GPS Tracker's exclusive offer – Dubai GPS Certification FREE SHAHIN GPS Certification in Dubai till September 23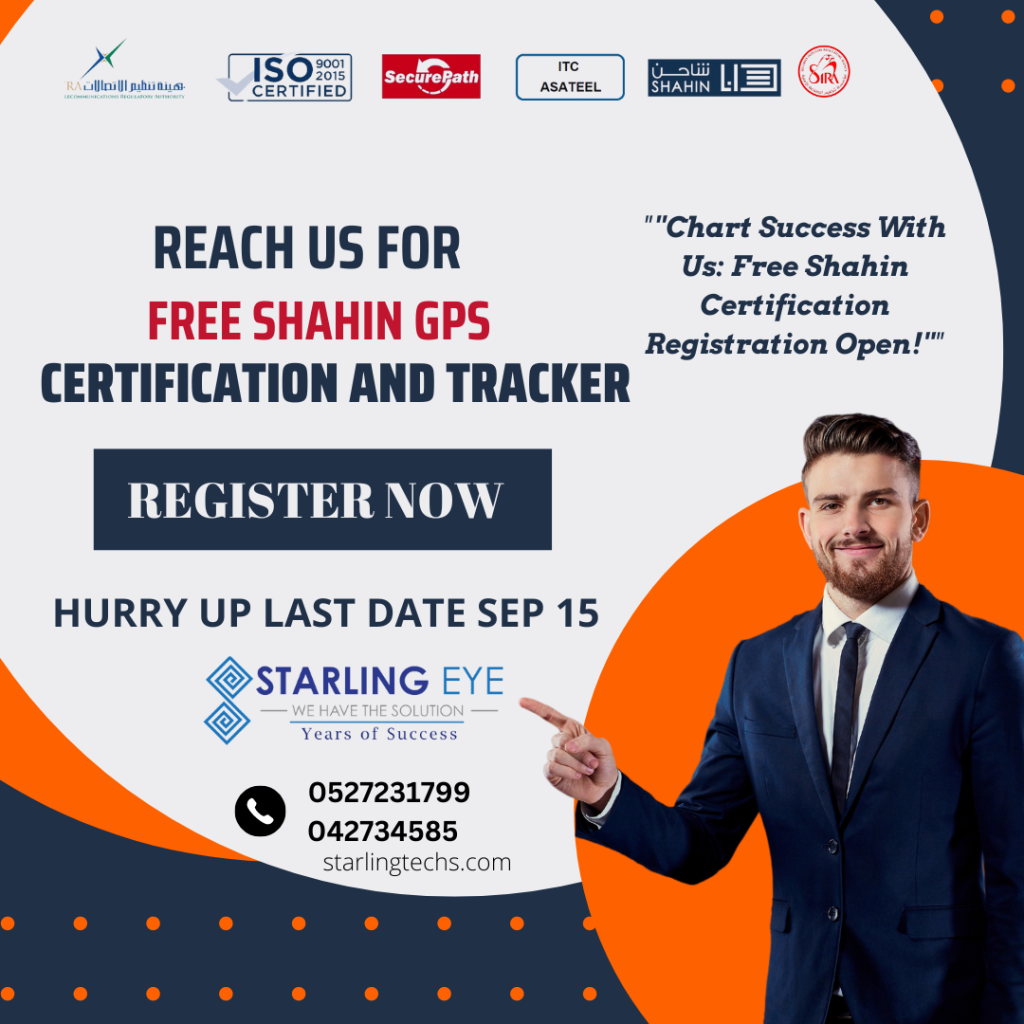 Unlock Enhanced Cargo Fleet Security with SHAHIN GPS Certification
Hurry, this limited-time offer grants you complimentary SHAHIN GPS Certification until September 23! Don't miss this chance to transform your cargo fleet's security and efficiency.
The SHAHIN initiative, fully compliant with the stringent regulations established by the Security Industry Regulatory Agency (SIRA), is poised to redefine Dubai's cargo fleet landscape. Its primary objective is unequivocal: to usher in a new era of efficiency and security for the emirate's registered cargo operators.
Why Choose SHAHIN GPS Certification?
Streamline Trade Processes: Effortlessly manage and optimize your cargo logistics, ensuring smooth trade operations.
Fortify Cargo Security: Gain peace of mind with advanced security features that protect your valuable cargo during transit.
Enhance Road Safety: Improve safety on the roads by monitoring and optimizing vehicle routes and behavior.
Don't wait! Seize this time-sensitive opportunity to revolutionize your operations and secure your cargo. Contact StarlingEye today to claim your FREE SHAHIN GPS Certification and take the first step toward a safer and more efficient cargo fleet in Dubai.
Boost cargo fleet security and efficiency in Dubai with FREE SHAHIN GPS Certification by StarlingEye GPS Tracker. Streamline trade, strengthen security, and enhance safety. Act now – get in touch with us today!
Ready to Elevate Your Cargo Fleet? Contact Us for FREE SHAHIN GPS Certification!
Elevate cargo fleet security with SHAHIN GPS Certification. Contact us now to take advantage of this exclusive offer and transform your cargo logistics operations in Dubai.